I went to
Singapore
last weekend to see
Orkibal's solo exhibition
in Warong M.Nasir, and then hang out with ARTVST in
Arab Street
and went shopping in
Orchard Street
. I bought a black iPod Nano for
RM570
. FYI, In
Malaysia
, Apple retail price for 1GB of iPod Nano is RM709. There's a lot of price difference compared here and there, so I encourage you to buy in
Singapore
if you have the chance. Anway, you can check out
VDSoul's blog
for more coverage and photos of the
Singapore
trip. Overall, it was fun and it was nice meeting my Singaporean friends again. To
Killergerbil
,
Sue
and
Sulaiman (Phuek)
, thank you guys. You guys make me so comfortable. Again, thanks to all, my roommates
Shieko
and
Iwas
.
Work Updates
I had recently finished my work on the Saladin website, working side by side with the talented Mr. Aizil. It was cool to finally have a working web work, no more mocks, rejections and no trust in giving ownership from my previous company. I had also been doing a commission job from United States firm called I-D-E-A, a project for SIRIM (Malaysia) on a cool web clock application.
Credit Cards Are Men Best Friend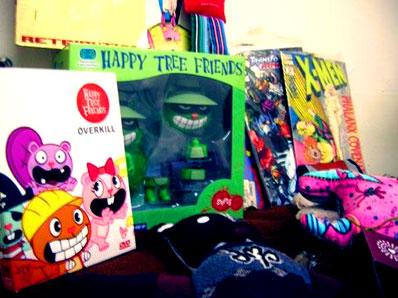 For more pics of my stuff / cribs, visit my fotopages here.

I purchased a DVD player that supports .avi (divx) and.mpeg files. So, I spent my whole three weeks watching anime (like Ergo Proxy, Eureka Seven, Naruto, etc) and movies I bought from friends and purchased from Amazon (MadTV, In Living Color, Girl 6). Additional to that, I had received my order of Happy Tree Friends Overkill DVD box set. So cute! In fact, it was indeed brutally creative. I'm currently waiting for my Threadless tees I had ordered earlier this month. I'm quite happy that I finally get to clear off one of my credit card and my Telekom phone bill! This week, I had renewed my car insurance, road tax, income tax (whoops! Missed it), I'm also waiting for my computer to be repaired that I send last week at the Acer centre. I'm looking forward to buy the new MacBook 13". I haven't physically seen the black one, but I still prefer the white one.
I'm seriously buying one of those babies.

I had successfully gained 1.5 kilos as a result to my constant workout at the gym. All around, my life is fulfilling and I'm looking forward to stay more positive.
moedlativ says:

'Bila finish makan, perut mungkin terbonjol keluar, maka kena 'control macho 'dan kelihatan 'maintain' tanpa nampak buncit, betul? ;-)'



_